The major theme of this blog is "Living and Learning," and this week I have been living with and learning more about Covid-19.
I first started to feel under the weather on Wednesday afternoon. By Thursday morning I had a scratchy throat and brain fog. Later that day, the cough set in and continued for a couple of days. I thought I had a bad cold but, when my daughter-in-law offered to give me a test kit for Covid-19 on Sunday, I agreed it was probably a good idea. Sure enough, I tested positive.
To be perfectly honest, the first time I tested myself I did it wrongly (I blame the brain fog for that) and the result was "Invalid," so I had to take a second test. That meant that my son had to pick up another pack of five test kits from the pharmacy for me. Fortunately, Alberta is providing them at no charge and he had no trouble picking them up.
The symptoms are a lot like a cold or the flu, but the lingering dry cough was what first made me suspicious that it was Covid. In addition, there were other unusual symptoms; on the third day I had diarrhea, my appetite has been almost non-existent throughout, I have been sleeping much more than usual, and there is a headache that comes and goes. Combined, these symptoms have been different from my usual cold and flu experiences.
I checked online to see what my provincial health authority advises, and I found that my symptoms did not warrant my going to the doctor. I am advised to stay home until my symptoms have gone, then to isolate for a few more days. I also learned today that I should not go for a second booster shot until three months after I have recovered. That is, apparently, because having had the disease gives me a few months of immunity, making the vaccination unnecessary and, essentially, ineffective.
Something else I learned in the last couple of days is that a surprising number of my friends and family members have also had a bout of Covid-19, despite being fully vaccinated and following the prescribed guidelines for masks and social distancing (unlike some politicians I could name!). After I posted on Facebook that I have Covid, I got a lot of kind responses and many of my Facebook Friends said they, too, had suffered the same symptoms, some for a long time and a few on more than one occasion.
Like most people I know, I thought that if I followed the rules I could avoid the illness, but it turns out the virus is even more infectious than I feared. It is disheartening to realize that despite my best efforts, I still got sick. It is also an indication of how nasty this thing is.
The good news is that, because I have been vaccinated I can expect the symptoms to be relatively short-lived and unlikely to cause me to need medical attention. The Rapid Test and Trace website shows how the presence of symptoms and the period when one is infectious differs between the vaccinated and unvaccinated :
"The recent trends show that vaccinated people have a much quicker immune response. This rapid immune response causes symptoms to present as soon as the virus enters your body and not last as long. The result is vaccinated people testing positive after the symptoms have subsided but when they are still infectious."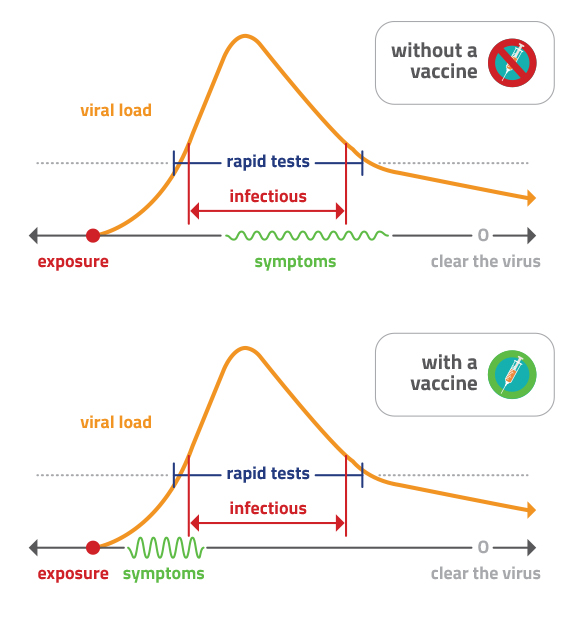 So, even after the symptoms subside, I can presume I am still infectious for a while and that is why I will continue to isolate for a few days. Fortunately, I am in a situation that allows me to isolate easily and to get help if I need it. My groceries have been delivered and, if I ever get my appetite back, I will have lots to eat.
I hope none of you ever gets Covid-19, but if you do, I hope you recover quickly. It's a horrible illness.